Welcome to the Institute for Artificial Intelligence!
The Institute for Artificial Intelligence and EASE will appear in the upcoming documentary film "Hi, AI" by Isa Willinger. Shooting took place in 2018. The film will be released on March 7, 2019. Watch the trailer on wwww.hiai-film.de and try to spot PR2 at 1:13. The film won the 2019 Max Ophüls Prize for Best Documentary Film. Congratulations!
We'd like to thank Ingmar Posner from the Oxford Robotics Institute for giving a great talk about "Robots Thinking Fast and Slow" in our Institute yesterday.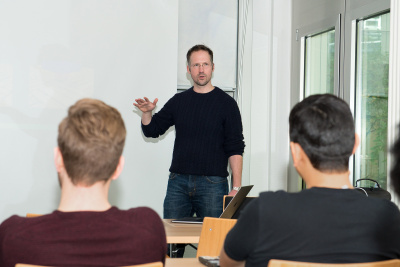 A TV team from RTL Nord was visiting our lab to check out the robots and Virtual Reality environment.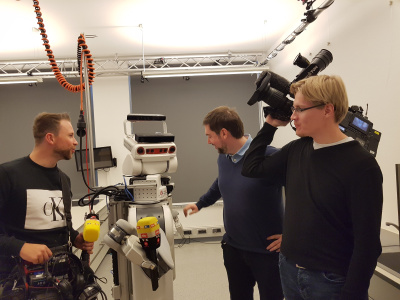 After the recent success of Dainel Leidner and his award for the best doctoral robotics thesis in Europe at the European Robotics Forum 2018, we're pleased to congratulate him once again. Last week, Daniel Leidner won the Helmholtz award for doctoral students at the "Helmholtz Horizons – The digital (R)Evolution in Science" symposium.
Daniel is co-leading the efforts of the EASE research project R4 at DLR and received his doctoral degree in 2017 from the Informatics faculty of the University of Bremen.
---

Prof. Michael Beetz PhD
Head of Institute
Managing Directors:
Dr. habil. Hagen Langer
Sabine Veit

http://ai.uni-bremen.de
Youtube Channel
Impressum
News
<< Newer entries | Older entries >>
openEASE
Open Knowledge for
AI-enabled robots