EASE Fall School 2022 was a success
We are delighted to look back at another EASE Fall School to close the academic year. From September 19 – 23, we welcomed early stage researchers at our Collaborative Research Center EASE. The EASE Fall School aims at bringing together the young research community to advance research progress in the implementation of cognition-enabled everyday activity robotics.
Participants received comprehensive insights into the research methods and technologies that enable robots to accomplish tasks for and together with humans. Each day started with a lecture given by renowned researchers and industrial partners. In the afternoons, participants were able to apply their newly gained theoretical knowledge in hands-on sessions during which they ran their own experiments in a range of robot manipulation scenarios. The accompanying social program included joint culinary and cultural activities such as excursions to the sights of Bremen.
Insights from diverse perspectives
94 international participants with a diverse range of disciplinary backgrounds took part. Among these backgrounds, the fields of robotics and artificial intelligence in particular were highly present: David Vernon of Carnegie Mellon University Africa, John Laird of the University of Michigan, and Antonio Lieto from the University of Turin presented new insights into cognitive architectures. Jean Oh from the Carnegie Mellon University discussed explainable AI and Tetsnuari Inamura from the National Institute of Informatics in Tokyo gave a lecture on digital twins. As an industry partner, Benjamin Alt from ArtiMinds Robotics discussed knowledge representation and reasoning in industrial robotics.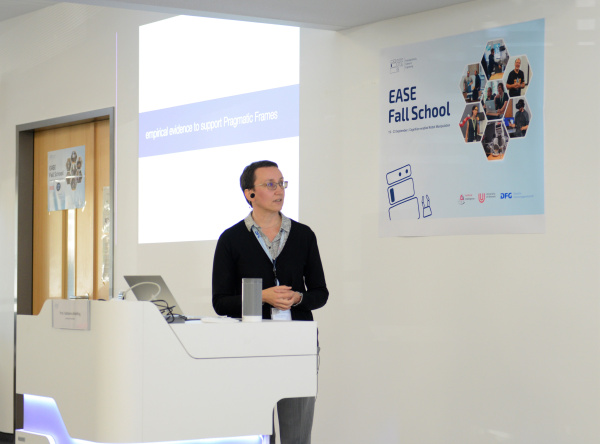 From the cognitive science perspective, Katharina Rolfing (pictured above) from the University of Paderborn and Britta Wrede from the University of Bielefeld presented theories of interactive learning. Alessandra Sciutti from the Istituto Italiano di Tecnologia also addressed the topic of social interaction in her talk on the role of human-robot collaboration in cognitive robots.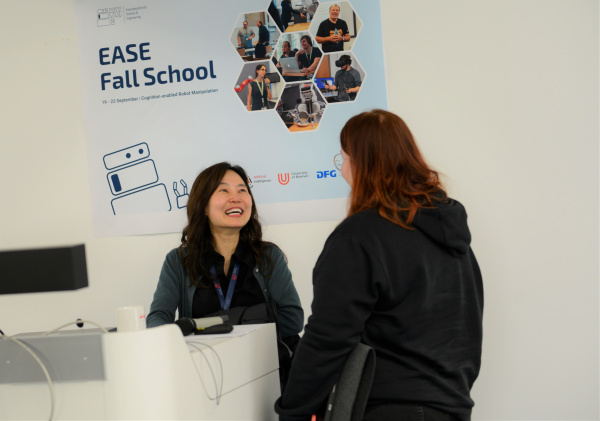 This year's fall school thus continued what is beginning to become a popular tradition at the IAI and layed the groundwork for future collaborations. We thank all our guest speakers and participants for their excellent insights and dedication. This year's Fall School has once again highlighted how much the Fall School thrives on the coming together of diverse perspectives with a shared passion for enabling robots for real-world tasks. The Fall School is one of our most popular events at the IAI. It serves to connect us with our partners, develop our common research interests and to excite the next generation of researchers for this agenda. We are already looking forward to the next fall school, which will take place September 11-15, 2023.
All Fall School lectures are publicly available in the EASE Learning Hub. For information on the next Fall School, click here.
---
Prof. Dr. hc. Michael Beetz PhD
Head of Institute
Contact via
Andrea Cowley
assistant to Prof. Beetz
ai-office@cs.uni-bremen.de
Memberships and associations: