Open researcher positions
Theses and Student Jobs
If you are looking for a bachelor/master thesis or a job as a student research assistant, you may find some interesting opportunities on this page.
Natural Physics-based Grasping in Virtual Environments (BA/MA Thesis)
Implementing physics-based grasping models in virtual environments, taking input from various devices such as Manus VR or Valve Index.
Requirements:
Good C++ programming skills

Familiar with skeletal animations

Experience with simulators/physics-/game- engines

Familiar with Unreal Engine API

Familiar with version-control systems (git)

Able to work independently with minimal supervision
Contact: Andrei Haidu
3D animation and model developer (Student Job / HiWi)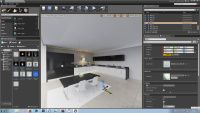 Developing and improving existing or new 3D (static/skeletal) models in Blender / Maya (or other). Further importing and testing the models against Unreal Engine.
Bonus: Working with state of the art 3D Scanners Go!SCAN for creating sketching new models.
Requirements:
Experience with Blender / Maya (or other)

Knowledge of Unreal Engine material / lightning development

Familiar with version-control systems (git)

Able to work independently with minimal supervision
Contact: Andrei Haidu
---