Table of Contents
The IAI at the Robotics4Labautomation symposium
Last week, the IAI participated in the Robotics4Labautomation symposium organized by the TraceBot project in Konstanz, Germany. The one-day event brought together laboratory automation and robotics experts from research and industry to discuss the current state of research in laboratory automation in the healthcare industry.
As part of the symposium, IAI director Michael Beetz and IAI researcher Franklin Kenghagho Kenfack explained in their presentations "The digital twin" and "Perception through cognitive emulation" how healthcare processes can be improved using AI methods.
A digital twin for sterility testing in healthcare
The development of new healthcare products is a delicate process that must be carried out with the utmost care and precision. Nothing can go wrong, especially when it comes to sterile medical devices, and systematic checks are required to ensure that each step has been successfully completed. The goal of the EU-funded TraceBot project is to develop a robotic system for sterility testing. The robotic system to be developed will be able to track the steps it has taken and understand whether it has performed the intended actions correctly. To this end, we are developing a semantic digital twin that can be integrated into a laboratory automation system. By enabling traceability with the digital twin infrastructure, we contribute to TraceBot's goal of creating an intelligent digitized laboratory of the future.
The TraceBot project
IAI is part of the TraceBot project. TraceBot receives funding from the European Union's H2020-EU.2.1.1. INDUSTRIAL LEADERSHIP programme runs until 2025. For more information on the TraceBot project, visit the TraceBot website: https://www.tracebot.eu/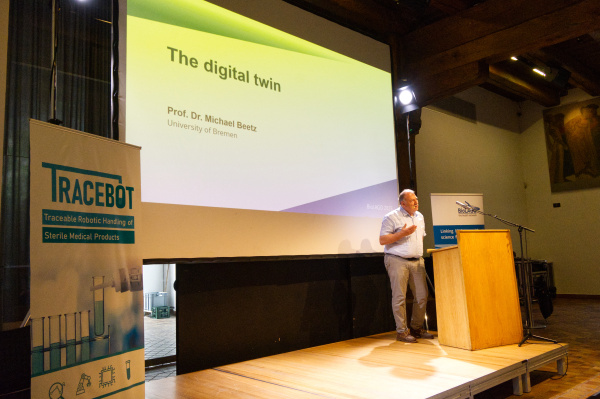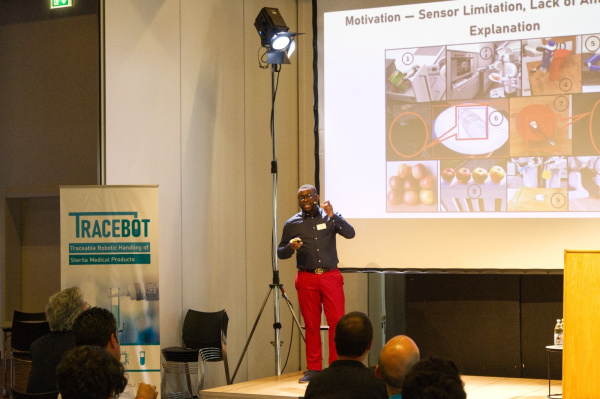 ---
Prof. Dr. hc. Michael Beetz PhD
Head of Institute
Contact via
Andrea Cowley
assistant to Prof. Beetz
ai-office@cs.uni-bremen.de
Memberships and associations: