Talk by Elizabeth Croft, Monash University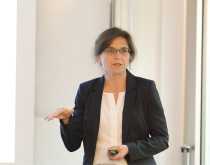 We were delighted to welcome Prof. Elizabeth Croft in our institute yesterday. She is an expert in Human-Robot-Interaction and discussed with us several aspects of successful interaction and control methods. Her talk was a great spotlight on research results of recent HRI experiments and provided a diverse overview of different interaction modalities.
Professor Elizabeth A. Croft is the Dean of Engineering at Monash University and Professor in the Departments of Mechanical and Aerospace Engineering, and Electrical and Computer Systems Engineering. She held the Natural Science and Engineering Research Council of Canada Chair for Women in Science and Engineering (BC/Yukon) from 2010-2015 and the Marshall Bauder Professorship in Engineering Economics, Business and Management Training from 2015-2017.
---
Prof. Dr. hc. Michael Beetz PhD
Head of Institute
Contact via
Andrea Cowley
assistant to Prof. Beetz
ai-office@cs.uni-bremen.de
Memberships and associations: