Second Virtual TransAIR Event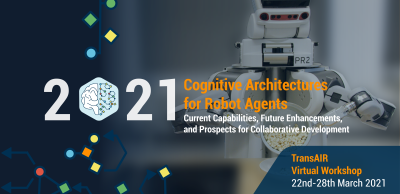 We are delighted to announce the upcoming TransAIR virtual workshop on "Cognitive Architectures for Robot Agents" which will be held from 22nd to 28th March 2021.
This TransAIR workshop will bring together leading experts to address the challenges of developing cognitive architectures for robot agents. The primary goal of the workshop is to open a discussion on possible interdisciplinary collaborations and the identification of prospects for collaborative development, ideally in an open-source open-systems framework.
Stay tuned for updates or find further information about the workshop on our website or contact us via email: contact@transair-bridge.org
---

Prof. Michael Beetz PhD
Head of Institute
Managing Directors:
Dr. habil. Hagen Langer
Sabine Veit

http://ai.uni-bremen.de
Youtube Channel
Impressum
News
openEASE
Open Knowledge for
AI-enabled robots