openEASE: nominated for EU's Innovation Radar Prize 2016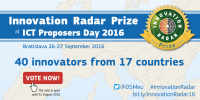 The Innovation Radar is an initiative of the European Commission focused on the identification of high potential innovations and the key innovators behind them in FP7, CIP and Horizon 2020 projects. It supports innovators by suggesting a range of targeted actions to assist them in fulfilling their potential in the market.
openEASE, as a novel cloud-based knowledge service which helps robots to accomplish vaguely stated actions by filling in missing knowledge pieces on demand, is a candidate for this award in the category of Industrial & Enabling Tech.
For more information, you can visit our award profile. You also have the chance of voting for us as your favourite innovator in this profile.
---

Prof. Michael Beetz PhD
Head of Institute
Managing Directors:
Dr. habil. Hagen Langer
Sabine Veit

http://ai.uni-bremen.de
Youtube Channel
Impressum
News
openEASE
Open Knowledge for
AI-enabled robots