IAI at ScienceGoesPublic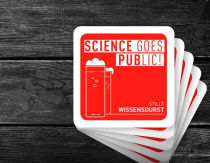 The ScienceGoesPublic initiative is a very popular format in which scientists present their research topics in bars and pubs in Bremen and Bremerhaven a in cozy and casual environment to the broad public.
On Nov 21st, IAI member Dr. Daniel Nyga will give a presentation about Artificial Intelligence and robotics. More information can be found at https://www.sciencegoespublic.de/programm/denn-sie-wissen-was-sie-tun---wie-roboter-lernen.201.
---