Google Open Source Blog Feature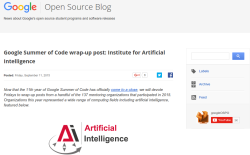 After the Google Summer of Code 2015 was concluded, Google started to feature selected members of the 137 open source organizations that took part in the GSoC 2015 program on their open source blog. After having had a very positive experience during GSoC 2014, our institute offered four projects within the Summer of Code this year.
We are pleased to announce that, as the first organization, the Institute of Artificial Intelligence is featured on Google's blog to describe impressions from this year's project period. You can find the link to the full blog post here.
---

Prof. Michael Beetz PhD
Head of Institute
Managing Directors:
Dr. habil. Hagen Langer
Sabine Veit

http://ai.uni-bremen.de
Youtube Channel
Impressum
News
openEASE
Open Knowledge for
AI-enabled robots