2nd Integration Workshop of EU Project RoboHow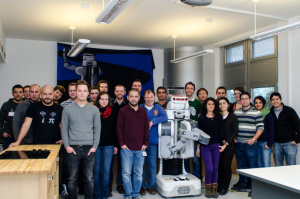 In mid-February, the 2nd joint integration workshop of the EU project RoboHow took place in our labs. PhD students and PostDocs from all our project partners visited us to work together to integrate their results and prepare the first review meeting.
While also focssing on software integration, the workshop also featured scientific presentations and hands-on tutorials. Furthermore, we visited the MARUM for a guided tour which all of us enjoyed very much.
The workshop was a huge success leaving all participants excited about the upcoming phases of RoboHow. We are looking forward to the next workshop which will be hosted by our project partner KTH, in Stockholm.
---

Prof. Michael Beetz PhD
Head of Institute
Managing Directors:
Dr. habil. Hagen Langer
Sabine Veit

http://ai.uni-bremen.de
Youtube Channel
Impressum
News
openEASE
Open Knowledge for
AI-enabled robots