How to upload tmp files
Instructions on how to upload files to the wiki, specially to the tmp page that is here.
Click on any of the following pictures for a full resolution image.
First log in to the Wiki: Click on "Log In", on the bottom left corner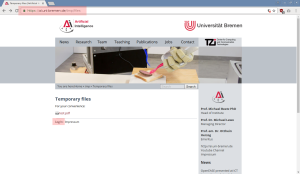 Type your user and password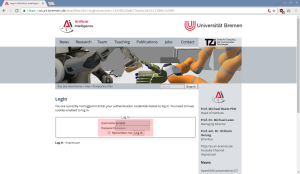 Click on "Edit this page" (Upper right corner)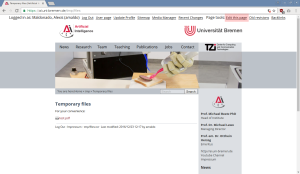 Click on the text area where you want the link to appear, then on the "Add image and other files" icon, marked in red in the next image: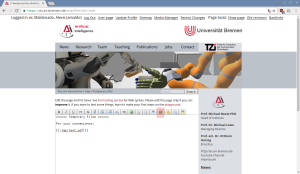 Make sure that you are in the :tmp namespace by clicking on "tmp" on the left side. Then click on "Select files", find the file you want to upload, and finally click on "Upload"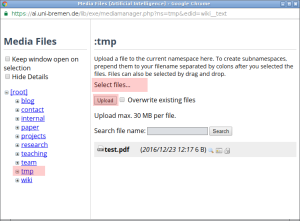 After that, the window refreshes and the file uploaded appears as a link. Click on it.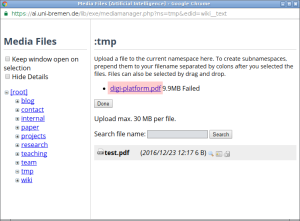 Now that pop-up window should close, and you get a link on your wiki page. Edit the name if you want (After the | symbol). Then click on "Save"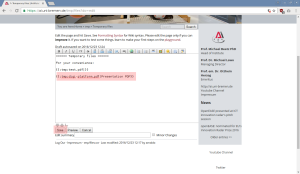 The wiki refreshes out of edit mode, and you can right click on the new link. You can give that link to others and they can get the file.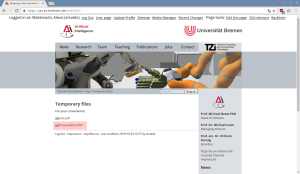 ---
Prof. Dr. hc. Michael Beetz PhD
Head of Institute
Contact via
Andrea Cowley
assistant to Prof. Beetz
ai-office@cs.uni-bremen.de
Memberships and associations: