Welcome to the Institute for Artificial Intelligence!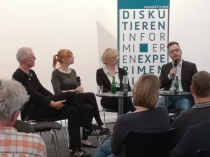 IAI member Dr. rer. nat. Daniel Nyga was invited to a discussion forum with the title 'Art or Artificial? How AI composes' in the Haus der Wissenschaft, Bremen.
Together with Amke Block and Thorsten Plath, the plenum discussed the interesting topic of AI-music. What is the opinion of artists, the music industry and music science about it? Is it still art or is creativity a feature solely belonging to human beings? What can AI deliver in the music domain what the human can't - and the other way around? The event has been moderated by Maike Evers-Schmidt.
Photo Credit: Wissenschaft im Dialog gGmbH Berlin
Dr. rer. nat. Daniel Nyga from the Institute for Artificial Intelligence will be an invited expert at a film screening event of Isa Willinger's documentary 'Hi AI', tomorrow, April 11th, 20:00 at the City 46 cinema.
Further details can be found at: city46
Location: CITY 46 | Birkenstraße 1 | 28195 Bremen
Bus & Tram Station: Herdentor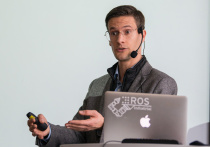 We are very honoured that Dr. Carlos Hernandez Corbato from TU Delft was keynote speaker at the opening session of the EASE Spring Meeting on March 11, 2019. The title of his great talk was "ROS and robot control architectures, from open source to metacontrol". Carlos H. Corbato is a postdoctoral researcher at the Department of Cognitive Robotics, TU Delft, and currently the coordinator of the ROSIN European project granted in the H2020 program.


Lecture by Dr. Daniel Nyga (IAI/EASE) as part of the "EINFACH WISSENSWERT 2019" exhibition for Robotics & AI, which is located in the "House of Science" in Bremen. The lecture is embedded in the lecture in the series of lectures called "WISSEN UM 11", where researchers give insight into state of the art research. The "House of Science" is a non-profit organisation to connect science with a broader community in and around Bremen.
Location: Haus der Wissenschaft, Sandstraße 4/5, 28195 Bremen
Date: Saturday, 9.03.19, 11:00h
Title: "Denn sie wissen, was sie tun – wie Roboter lernen" (The talk will be held in german)

The head of the IAI, Prof. Beetz, has received an honory doctorate last week from the swedish university of Örebro. In a festive ceremonial, he was awarded for his exceptional, international research and his longstanding cooperation with the university of Örebro. Besides being a second assessor for many PhD theses, Prof. Beetz also held lectures in the context of the winter school of the AASS Cognitive Robotic Systems Labs.




---

Prof. Michael Beetz PhD
Head of Institute
Managing Directors:
Dr. habil. Hagen Langer
Sabine Veit

http://ai.uni-bremen.de
Youtube Channel
Impressum
News
<< Newer entries | Older entries >>
openEASE
Open Knowledge for
AI-enabled robots