Welcome to the Institute for Artificial Intelligence!
Research
| Funded projetcs | |
| --- | --- |
| | EASE (SFB 1320) is a collaborative research center for everyday activities. |
| | IntEL4CoRo provides an interactive learning environment. |
| | euROBIN is a European Network of Excellence that the IAI is part of. |
| | REMARO develops a reliable and safe AI system for underwater robotics. |
| | Tracebot enables robotic systems to understand what they do. |
| Internal projects | |
| --- | --- |
| | CRAM is a software toolbox for the implementation of autonomous robots. |
| | KnowRob is a knowledge processing system for robots. |
| | OpenEASE is a web-based knowledge service providing robot and human activity data. |
| | GISKARD is a framework for constraint- and optimization-based robot motion and planning control. |
| | |
| --- | --- |
| | RoboKudo is a perception framework targeted for robot manipulation tasks. |
A full overview of our ongoing and completed projects can be found here.
News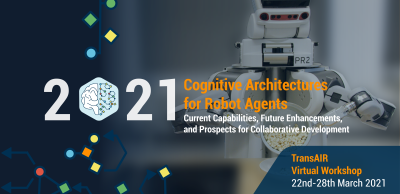 We are delighted to announce the upcoming TransAIR virtual workshop on "Cognitive Architectures for Robot Agents" which will be held from 22nd to 28th March 2021.
This TransAIR workshop will bring together leading experts to address the challenges of developing cognitive architectures for robot agents. The primary goal of the workshop is to open a discussion on possible interdisciplinary collaborations and the identification of prospects for collaborative development, ideally in an open-source open-systems framework.
Stay tuned for updates or find further information about the workshop on our website or contact us via email: contact@transair-bridge.org

Work together on more reliable AI for marine robotics (vision, navigation, perception, planning, failure recovery, testing, verification, model-checking, model-driven engineering …). There are 15 different research projects available with different prerequisites and focus, located in Copenhagen, Oslo, Porto, Delft, Aachen, and in our Institute for Artificial Intelligence.

We are offering a position in the following field:

Digital Twin Knowledge Base for submarine robot inspection/manipulation
You can find a in-depth description for the position at our Institute on the Jobs overview page and the REMARO website.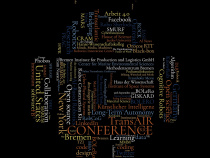 The first virtual TransAIR conference called "Democratize AI with open research" kicks off today.
From Wednesday, September 30th until October 14th participants can listen to pre-recorded material by international speakers on advances, challenges and potentials of open science in Artificial Intelligence as well as robotics, task planning, robot motor control, knowledge representation, reasoning, machine learning and computer vision.
Moreover, the schedule includes interviews, Q&A's, a panel discussion and tutorials on open projects alongside many networking opportunities with other participants.
Learn more here https://transair-bridge.org/conference-2/
Registration is possible until Sunday, October 4th.
Teaching
A detailed description of most courses can be found in the Online Module Handbook of the FB3: http://apophis.informatik.uni-bremen.de:3001/.
If you are looking for lectures from past semesters, take a look at our Lecture archive.
Beside lectures and projects, we also offer theses and jobs for student research assistants. If you are interested, you can find more information here.
---