This is an old revision of the document!
---
Highschool pupils from Arequipa meet the robots in our lab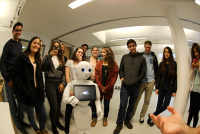 Twelve pupils from Arequipa, Peru interested in studding Artificial Intelligence and Robotics at University of Bremen visited the robots from our lab. Next year is their final year of studies before continuing to university and knowing the international reputation of University of Bremen in Robotics and Artificial Intelligence they chose to visit the research laboratories of our university. It was our pleasure to have them as guests and hence confirm the international reputation of our university. In our lab they interact with our Pepper robot and explored his social capabilities. Furthermore they saw the PR2 robot making popcorn and Boxy robot baking pizza for them. We look forward to have them back as students.
---

Prof. Michael Beetz PhD
Head of Institute
Managing Directors:
Dr. habil. Hagen Langer
Sabine Veit

http://ai.uni-bremen.de
Youtube Channel
Impressum
News
openEASE
Open Knowledge for
AI-enabled robots