This is an old revision of the document!
---
Best doctoral robotics thesis goes to Daniel Leidner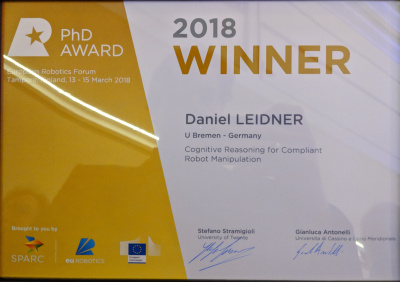 We congratulate Daniel Leidner for receiving the prize for the best doctoral robotics thesis in Europe at the European Robotics Forum 2018!
Daniel is co-leading the efforts of the EASE research project R4 at DLR and received his doctoral degree in 2017 from the Informatics faculty of the University of Bremen.
---

Prof. Michael Beetz PhD
Head of Institute
Managing Directors:
Dr. habil. Hagen Langer
Sabine Veit

http://ai.uni-bremen.de
Youtube Channel
Impressum
News
openEASE
Open Knowledge for
AI-enabled robots