Welcome to the Institute for Artificial Intelligence!

Yesterday we had very special guests for the Girls' Day 2018 at our Institute for Artificial Intelligence. It is the day of the year where young girls explore different professional fields and get inspired by other women, who shape their fields of work in a very passionate way. It was our main goal to demonstrate to these girls that they will be part of a very exciting future, where their contribution will certainly matter.
Seventeen girls of different ages, ranging from 10 to 14 years old, and different schools had the opportunity to immerse themselves into the world of robotics and artificial intelligence. A diverse program was organized to provide them an overall overview of our promising research activities and projects. The girls were engaged in very interesting discussions about the various fields of informatics and robotics. They were highly fascinated by our little robot "Pepper", which succeeded in showing them how fun and entertaining robotics can be. In our virtual reality environment, they learned how teaching robots new actions can be solved in a very playful way. Overall the girls were very impressed and developed a greater interest to the fields of informatics and robotics.
Thanks to Bruno Siciliano from University of Naples Federico II for giving a great talk titled "Robotic Dynamic Manipulation"!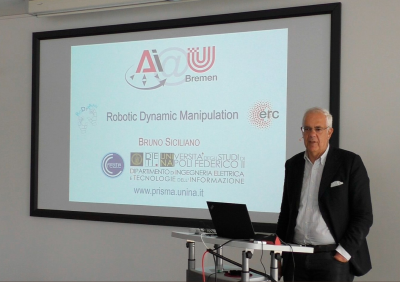 We are happy to announce that our joint research paper
with JSK Lab., The University of Tokyo has been nominated for the cognitive award and the service award in IEEE ICRA 2018.
Hope to see you in Brisbane, Australia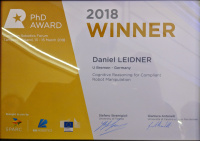 We congratulate Daniel Leidner for receiving the prize for the best doctoral robotics thesis in Europe at the European Robotics Forum 2018!
Daniel is co-leading the efforts of the EASE research project R4 at DLR and received his doctoral degree in 2017 from the Informatics faculty of the University of Bremen.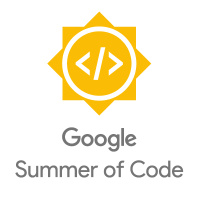 The Institute for Artificial Intelligence has been selected as mentoring organization for the Google Summer of Code 2018 as one out of 212 organizations world-wide. The initiative, started in 2005, sponsors students during the summer months for contributing code to selected open source projects. This is our third year in the Google-sponsored program and we're looking forward to mentoring interested students and introducing them to our software tools and research.
You can find more information about the proposed projects as well as contact information of the designated mentors at our Google Summer of Code page.
---