Dr.rer.nat. Daniel Nyga
About
Before I joined the Institute for Artificial Intelligence, I studied Computer Science at Technische Universität München, where I received my Master's degree in 2010 (with distinction). In 2011 I started my PhD supervised by Prof. Michael Beetz at the Intelligent Autonomous Systems group at TUM, which I have finished at the Institute for Artificial Intelligence, University of Bremen, with my thesis on the Interpretation of Natural-language Robot Instructions: Probabilistic Knowledge Representation, Learning, and Reasoning
I'm working on the import of action-specific knowledge from the World Wide Web into the knowledge bases of our mobile robots. In particular, my current research focuses on understanding natural language, in order to enable a robot to autonomously acquire new high-level skills by querying web pages such as eHow.com or wikiHow.com.
My work aims at building up action-specific knowledge bases from various knowledge sources, such as natural language, interactive computer games, observations of humans performing everyday activity or experience data of a robot.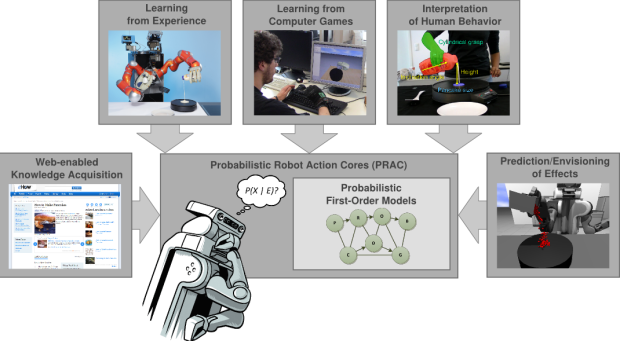 Knowledge about actions and objects is represented as Probabilistic Action Cores (PRAC), which can be thought of generic event patterns that enable a robot to infer important information that is missing in an original natural-language instruction. PRAC models are represented in Markov Logic Networks, a powerful knowlegde represenation formalism combing first-order logic and probability theory.
I was involved in the European research projects RoboHow (http://www.robohow.org) and ACAT.
I am also the lead developer in the projects pracmln and PRAC.
Fields of Interest
Artificial Intelligence

Probability Theory

Probabilistic Knowledge Processing

Machine Learning

Statistical Relational Learning

Data Mining/Knowledge Discovery

Automated Learning/Understanding of WWW information

Natural-Language Understanding
Teaching
Supervised Theses
Lifelong Learning of First-order Probabilistic Models for Everyday Robot Manipulation (Master's Thesis, Marc Niehaus)

Scaling Probabilistic Completion of Robot Instructions through Semantic Information Retrieval (Master's Thesis, Sebastian Koralewski)

To see what no robot has seen before - Recognizing objects based on natural-language descriptions (Master's Thesis, Mareike Picklum)

Web-enabled Learning of Models for Word Sense Disambiguation (Bachelor Thesis, Stephan Epping)

Grounding Words to Objects: A Joint Model for Co-reference and Entity Resolution Using Markov Logic Networks for Robot Instruction Processing (Diploma Thesis, Florian Meyer)
Publications
Journal Articles and Book Chapters
| | |
| --- | --- |
| [1] | Michael Beetz, Hagen Langer, Daniel Nyga, "Planning Everyday Manipulation Tasks--Prediction-based Transformation of Structured Activity Descriptions", Chapter in Exploring Cybernetics, Springer, pp. 63-83, 2015. [bib] |
| [2] | Michael Beetz, Ferenc Bálint-Benczédi, Nico Blodow, Christian Kerl, Zoltán-Csaba Márton, Daniel Nyga, Florian Seidel, Thiemo Wiedemeyer, Jan-Hendrik Worch, "RoboSherlock: Unstructured Information Processing Framework for Robotic Perception", In Handling Uncertainty and Networked Structure in Robot Control, Springer International Publishing, Cham, pp. 181-208, 2015. [bib] [pdf] [doi] |
Conference Papers
| | |
| --- | --- |
| [3] | Daniel Nyga, Mareike Picklum, Sebastian Koralewski, Michael Beetz, "Instruction Completion through Instance-based Learning and Semantic Analogical Reasoning", In International Conference on Robotics and Automation (ICRA), Singapore, 2017. Accepted for publication [bib] |
| [4] | Daniel Nyga, Mareike Picklum, Michael Beetz, "What No Robot Has Seen Before -- Probabilistic Interpretation of Natural-language Object Descriptions", In International Conference on Robotics and Automation (ICRA), Singapore, 2017. Accepted for publication [bib] |
| [5] | Daniel Nyga, Michael Beetz, "Cloud-based Probabilistic Knowledge Services for Instruction Interpretation", In International Symposium of Robotics Research (ISRR), Sestri Levante (Genoa), Italy, 2015. [bib] [pdf] |
| [6] | Daniel Nyga, Michael Beetz, "Reasoning about Unmodelled Concepts -- Incorporating Class Taxonomies in Probabilistic Relational Models", In Arxiv.org, 2015. Preprint [bib] [pdf] |
| [7] | Gheorghe Lisca, Daniel Nyga, Ferenc Bálint-Benczédi, Hagen Langer, Michael Beetz, "Towards Robots Conducting Chemical Experiments", In IEEE/RSJ International Conference on Intelligent Robots and Systems (IROS), Hamburg, Germany, 2015. [bib] [pdf] |
| [8] | Michael Beetz, Ferenc Balint-Benczedi, Nico Blodow, Daniel Nyga, Thiemo Wiedemeyer, Zoltan-Csaba Marton, "RoboSherlock: Unstructured Information Processing for Robot Perception", In IEEE International Conference on Robotics and Automation (ICRA), Seattle, Washington, USA, 2015. Best Service Robotics Paper Award [bib] [pdf] |
| [9] | Daniel Nyga, Ferenc Balint-Benczedi, Michael Beetz, "PR2 Looking at Things: Ensemble Learning for Unstructured Information Processing with Markov Logic Networks", In IEEE International Conference on Robotics and Automation (ICRA), Hong Kong, China, 2014. [bib] [pdf] |
| [10] | Nicholas Hubert Kirk, Daniel Nyga, Michael Beetz, "Controlled Natural Languages for Language Generation in Artificial Cognition", In IEEE International Conference on Robotics and Automation (ICRA), Hong Kong, China, 2014. [bib] [pdf] |
| [11] | Daniel Nyga, Michael Beetz, "Everything Robots Always Wanted to Know about Housework (But were afraid to ask)", In 2012 IEEE/RSJ International Conference on Intelligent Robots and Systems (IROS), Vilamoura, Portugal, 2012. [bib] [pdf] |
| [12] | Daniel Nyga, Moritz Tenorth, Michael Beetz, "How-Models of Human Reaching Movements in the Context of Everyday Manipulation Activities", In IEEE International Conference on Robotics and Automation (ICRA), Shanghai, China, 2011. [bib] [pdf] |
| [13] | Moritz Tenorth, Daniel Nyga, Michael Beetz, "Understanding and Executing Instructions for Everyday Manipulation Tasks from the World Wide Web", In IEEE International Conference on Robotics and Automation (ICRA), Anchorage, AK, USA, pp. 1486-1491, 2010. [bib] [pdf] |
Other Publications
| | |
| --- | --- |
| [14] | Daniel Nyga, "Interpretation of Natural-language Robot Instructions: Probabilistic Knowledge Representation, Learning, and Reasoning", PhD thesis, University of Bremen, 2017. [bib] [pdf] |
| [15] | Moritz Tenorth, Daniel Nyga, Michael Beetz, "Understanding and Executing Instructions for Everyday Manipulation Tasks from the World Wide Web", Technical report, IAS group, Technische Universität München, Fakultät für Informatik, 2009. [bib] |
---

Prof. Michael Beetz PhD
Head of Institute
Dr. habil. Hagen Langer
Managing Director
Prof. em. Dr. Otthein Herzog
Emeritus
http://ai.uni-bremen.de
Youtube Channel
Impressum
News
openEASE
Open Knowledge for
AI-enabled robots